The CIMC Movement: Creating Positive Change for Native Communities
COVID Education Recovery Project
---
---
---

Project Summary: The goal of the project is to increase succession in school and help Native American youth achieve graduation into the next grade level through an online education platform providing online courses, tutoring services, and GED services to improve their grades in subjects they are having difficulty with, learn at a grade level that is respective to their age group and or obtain a GED.

The project recruits youth students throughout a two-year project period and works in partnership with GradeResults to fulfill project objectives by providing educational services to youth.

Eligibility: Youth aged 5-24 whose educational competency/attainment has dropped due to COVID-19 impediments, who meet the low-to-moderate income requirements, are at-risk students or non-traditional learners. Applicants must also reside within CIMC's geographic service area.
Federal funding is provided by the California Department of Housing and Community Development through the Community Development Block Grant-Coronavirus Relief.
California Indian Manpower Consortium, Inc. (CIMC) is funded in part by the U.S. Department of Labor.
CIMC is an Equal Opportunity Employer/Program. Auxiliary aids and services are available upon request to individuals with disabilities.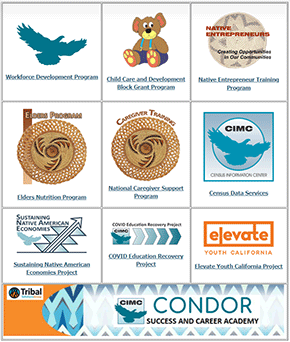 National Caregiver Support Program
Community Services Block Grant Program
Child Care and Development Block Grant Program
Tribal Business Export Development Program
Native Entrepreneur Training Program
Elevate Youth California Project
Sustaining Native American Economies Project
---
Join our Mailing List:

CIMC Condor Connection Newsletter Archive
Download: Newsletters (pdf)