The CIMC Movement: Creating Positive Change for Native Communities
UPCOMING BOARD OF DIRECTORS MEETINGS:
To be announced
Executive Committee:
---

Benjamin Charley, Jr.
Bishop, California

Gary Rickard
Anderson, California

---

Stacy Dixon
Susanville, California

Robert H. Smith
Pala, California

---

Board of Directors at CIMC Annual Membership Meeting - November 3, 2018
Geographic Service Representatives:
---

Kim Edward Cook
Chicago, Illinois
Alternate: Joseph Podlasek

Carol Bill
Tollhouse, California

Alternate: Nichole Redmond

---

Roseanne Moose
Big Pine, California
Alternate: Peggy Vega

Jackie WiseSpriit
Temecula, California

Alternate: Colleen Garcia

---

Shelia Smith-Lopez
Pala, California
Alternate: James Hill

Tanya Estrada
Redwood Valley, California
Alternate: Carmen Ochoa

---

Barbara K. Bird
Oroville, California
Alternate: Valerie Mayo

---
CIMC Native American Workforce Investment Council (NAWIC)
Kim Edward Cook (Board of Directors) - American Indian Health Service of Chicago, Inc., Chicago, IL (Chair)
Ben W. Bendel (Retired) - Pacific Gas and Electric Company, Granite Bay, CA
Brooks D. Ohlson (Director, Center for International Trade) - Los Rios Community College District, Sacramento, CA
Erna Smith (Human Resources - Retired) - USDA Forest Service, Pacific Southwest Region, Oakland, CA
Ex-Officio:
Benjamin Charley, Jr. (CIMC Board of Directors)
Robert H. Smith (CIMC Board of Directors)
(916) 920-0285 | (800) 640-2462 | TTY: (800) 748-5259 | FAX: (916) 641-6338
California Indian Manpower Consortium, Inc. (CIMC) is funded in part by the U.S. Department of Labor.
CIMC is an Equal Opportunity Employer/Program. Auxiliary aids and services are available upon request to individuals with disabilities.
For more information about CIMC events,
visit CIMC Upcoming Events Calendar.
---
---
Join our Mailing List:

CIMC Condor Connection Newsletter Archive
Download: Newsletters (pdf)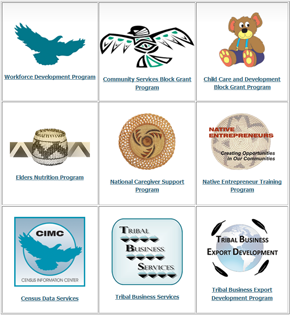 National Caregiver Support Program
Community Services Block Grant Program
Child Care and Development Block Grant Program
Tribal Business Export Development Program