The CIMC Movement: Creating Positive Change for Native Communities
| | |
| --- | --- |
| CIMC CURRENT MEMBERSHIP (Program Years 2017-2020): | |
| Member Tribe/Organization | |
| | Chicago |
| American Indian Center of Chicago – Chicago, IL | Chicago |
| | Chicago |
| American Indian Studies Program, University of Illinois at Urbana-Champaign – Chicago, IL | Chicago |
| Berry Creek Rancheria of Maidu Indians of California – Oroville, CA | Redding |
| Big Pine Paiute Tribe of the Owens Valley – Big Pine, CA | Eastern Sierra |
| | Sacramento |
| | Eastern Sierra |
| Buena Vista Rancheria of Me-Wuk Indians – Sacramento, CA | Sacramento |
| | San Jacinto |
| Cahto Tribe of Laytonville Rancheria – Laytonville, CA | Ukiah |
| Campo Band of Mission Indians – Campo, CA | Escondido |
| | Sacramento |
| | San Jacinto |
| | Sacramento |
| Cortina Rancheria – Williams, CA | Redding |
| | San Jacinto |
| | Ukiah |
| | Sacramento |
| | Ukiah |
| Dunlap Band of Mono Indians – Dunlap, CA | Sacramento |
| | Ukiah |
| Elk Valley Rancheria – Crescent City, CA | Redding |
| Enterprise Rancheria – Oroville, CA | Redding |
| Enterprise Rancheria Indian Housing Authority – Oroville, CA | Redding |
| Feather River Tribal Health, Inc. – Oroville, CA | Redding |
| Fort Bidwell Indian Community Council – Fort Bidwell, CA | Redding |
| Fort Bidwell Paiute Reservation Community Elders Organization – Fort Bidwell, CA | Redding |
| Fort Independence Indian Reservation – Independence, CA | Eastern Sierra |
| | San Jacinto |
| Foundation for the Kern Indian Community – Lake Isabella, CA | Eastern Sierra |
| Fresno American Indian Health Project – Fresno, CA | Sacramento |
| Grindstone Indian Rancheria – Elk Creek, CA | Redding |
| Guidiville Indian Rancheria – Talmage, CA | Ukiah |
| Hopland Band of Pomo Indians – Hopland, CA | Ukiah |
| Iipay Nation of Santa Ysabel – Santa Ysabel, CA | Escondido |
| Inaja Cosmit Band of Indians – Escondido, CA | Escondido |
| | Escondido |
| | Ukiah |
| Inter Tribal Sports – Temecula, CA | San Jacinto |
| Ione Band of Miwok Indians – Plymouth, CA | Sacramento |
| Jamul Indian Village of California – Jamul, CA | Escondido |
| La Jolla Band of Luiseno Indians – Pauma Valley, CA | Escondido |
| La Posta Band of Mission Indians – Boulevard, CA | Escondido |
| | Redding |
| Local Indians for Education, Inc. – Shasta Lake, CA | Redding |
| Lone Pine Paiute-Shoshone Reservation – Lone Pine, CA | Eastern Sierra |
| | Redding |
| | Redding |
| Mechoopda Indian Tribe of Chico Rancheria – Chico, CA | Redding |
| Mesa Grande Band of Mission Indians – Santa Ysabel, CA | Escondido |
| Modoc Lassen Indian Housing Authority – Lake Almanor, CA | Redding |
| Mono Lake Kutzadika'a Tribe | |
| Mooretown Rancheria of Maidu Indians – Oroville, CA | Redding |
| Morongo Band of Mission Indians – Banning, CA | San Jacinto |
| Native American Chamber of Commerce of Illinois – Chicago, IL | Chicago |
| Native American Environmental Protection Coalition – Murrieta, CA | San Jacinto |
| | Chicago |
| Native American Tribal Equality Foundation – Saint Charles, IL | Chicago |
| Nor Rel Muk Wintu Nation – Weaverville, CA | Redding |
| | Sacramento |
| | Ukiah |
| Owens Valley Board of Trustees / Owens Valley Career Development Center – Bishop, CA | Eastern Sierra |
| | Escondido |
| | Escondido |
| Pala Fire Department – Pala, CA | Escondido |
| | Escondido |
| Pauma Band of Mission Indians – Pauma Valley, CA | Escondido |
| Pit River Tribe – Burney, CA | Redding |
| Potter Valley Tribe – Ukiah, CA | Ukiah |
| Redwood Valley Little River Band of Pomo Indians – Redwood Valley, CA | Ukiah |
| | Escondido |
| | San Jacinto |
| Robinson Rancheria Citizens Business Council – Nice, CA | Ukiah |
| Roundhouse Council – Greenville, CA | Redding |
| San Pasqual Band of Mission Indians – Valley Center, CA | Escondido |
| San Pasqual Housing and Community Development – Valley Center, CA | Escondido |
| San Pasqual Reservation Fire Academy – Valley Center, CA | Escondido |
| | San Jacinto |
| | Ukiah |
| | Ukiah |
| Sierra Mono Museum – North Fork, CA | Sacramento |
| | Sacramento |
| | San Jacinto |
| | Escondido |
| Southern Indian Health Council, Inc. – Alpine, CA | Escondido |
| Southern Sierra Miwuk Nation – Mariposa, CA | Sacramento |
| | Redding |
| Susanville Indian Rancheria Corporation – Herlong, CA | Redding |
| Susanville Indian Rancheria Housing Authority – Susanville, CA | Redding |
| Tejon Indian Tribe – Bakersfield, CA | Eastern Sierra |
| The Mono Nation – North Fork, CA | Sacramento |
| | Eastern Sierra |
| Toiyabe Indian Health Project, Inc. – Bishop, CA | Eastern Sierra |
| Torres Martinez Desert Cahuilla Indians – Thermal, CA | San Jacinto |
| | Chicago |
| Tuolumne Band of Me-Wuk Indians – Tuolumne, CA | Sacramento |
| Tuolumne Me-Wuk Housing Authority – Tuolumne, CA | Sacramento |
| | Ukiah |
| | Redding |
(916) 920-0285 | (800) 640-2462 | TTY: (800) 748-5259 | FAX: (916) 641-6338
California Indian Manpower Consortium, Inc. (CIMC) is funded in part by the U.S. Department of Labor.
CIMC is an Equal Opportunity Employer/Program. Auxiliary aids and services are available upon request to individuals with disabilities.
Shape our future, START HERE
#NativePeopleCount | #Census2020
---
For more information about CIMC events,
visit CIMC Upcoming Events Calendar.
---
---
Join our Mailing List:

CIMC Condor Connection Newsletter Archive
Download: Newsletters (pdf)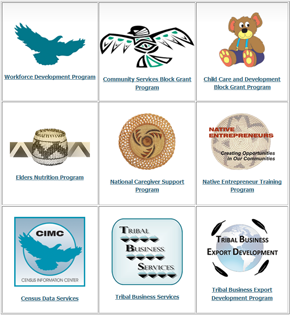 National Caregiver Support Program
Community Services Block Grant Program
Child Care and Development Block Grant Program
Tribal Business Export Development Program