The CIMC Movement: Creating Positive Change for Native Communities
The California Indian Manpower Consortium, Inc. (CIMC) is administering a program for low-income Native American People residing off-reservation through a subcontract agreement with the Northern California Indian Development Council, Inc. Funding is provided through the State Office of Economic Opportunity, Community Services Block Grant (CSBG), American Indian Set-Aside, and is designed
to provide a wide range of services.

In order to be determined eligible for direct services, one must:

• Provide proof of Native American heritage
• Be in a poverty-level household
• Be an off-reservation resident of one of the following counties:
| | | | | | |
| --- | --- | --- | --- | --- | --- |
| | Alpine | Glenn | Mariposa | Placer | Stanislaus |
| | Amador | Inyo | Mendocino | Plumas | Sutter |
| | Calaveras | Kern | Merced | Sacramento | Tehama |
| | Colusa | Lake | Modoc | Shasta | Tuolumne |
| | El Dorado | Lassen | Mono | Sierra | Yolo |
| | Fresno | Madera | Nevada | Solano | Yuba |
CSBG Program goals include:
• secure and retain meaningful employment
• attain an adequate education
• make better use of available income
• obtain and maintain adequate housing and suitable living environment
• remove obstacles and help to solve problems which block the achievement of self-sufficiency
• obtain emergency assistance to meet the immediate and urgent needs of the family
• make more effective use of other programs related to the purpose of the Federal and State CSBG laws and of the efforts by other entities in the private sector to alleviate poverty in the American Indian communities
Direct services include:
• Nutrition services for limited food resources.
• Utility Assistance: prevent disconnection of utilities or to restore services.
• Housing Assistance: prevent eviction, to obtain suitable housing, or provide assistance to homeless families transitioning to permanent housing.
• Education Assistance: purchase books, supplies, or tuition for basic skills/GED education when financial aid has not been received.
• Employment Assistance: purchase employment required clothing, fees, or dues when no other program is available; to purchase books, supplies, or tuition for vocational training when financial aid has not been received.
Other services include:
• Information and referral
• Forms assistance/application assistance
• Counseling and outreach
• Linkage to other service providers (local and statewide)
• Workshops on financial planning, nutritious meal planning and preparing a shopping list from planned meals.
(916) 564-4053 | (800) 432-2724 | TTY: (800) 748-5259 | FAX: (916) 564-2345
California Indian Manpower Consortium, Inc. (CIMC) is funded in part by the U.S. Department of Labor.
CIMC is an Equal Opportunity Employer/Program. Auxiliary aids and services are available upon request to individuals with disabilities.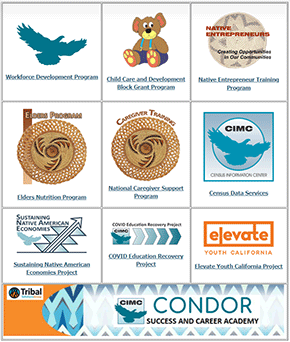 National Caregiver Support Program
Community Services Block Grant Program
Child Care and Development Block Grant Program
Tribal Business Export Development Program
Native Entrepreneur Training Program
Elevate Youth California Project
COVID Education Recovery Project
Sustaining Native American Economies Project
---
Join our Mailing List:

CIMC Condor Connection Newsletter Archive
Download: Newsletters (pdf)