The CIMC Movement: Creating Positive Change for Native Communities
#NativePeopleCount
2020 Census Operational Adjustments Due to COVID-19
| | |
| --- | --- |
| | |
---

Did You Know?

Census data is the basis for over $1 billion dollars that annually flows into Indian Country to build tribal housing and make improvements, maintain and construct roads, and provide employment and training programs.

American Indians and Alaska Natives historically have experienced some of the highest Census undercounts of any population in the U.S. – a notable percentage of Natives on reservations were missed in the 1990 Census compared to 1.2 percent of all people in the U.S. and about 4.9 percent of tribal people on-reservation were missed in 2000.

American Indians were generally not counted up until 1890 and then substantially undercounted until about 1980 when all U.S. residents were allowed to indicate their own race rather than having it determined by a census enumerator.


Census answers are private and confidential: by law, the Census Bureau cannot share an individual's or a household's answers with any person or agency, e.g. not the IRS, not law enforcement entities, nor tribal housing authorities.
Why Should You be Counted in the 2020 Census?
Being counted as Native will directly benefit you, your family and your tribal community. The census taken every ten years is the only uniform count of the U.S. population, producing figures for the nation as a whole and for every geographic area within it down to the smallest American Indian reservation and Alaska Native village. The census is the only source of this kind of data, with thousands of uses that benefit all American Indians and Alaska Natives. Just a few of the potential uses of census data include:
- Analyzing the need for Head Start services in each area of a reservation.
- Planning the development of facilities for tribal elders.
- Strengthening programs for tribal members living in the big cities.
- Helping tribal government agencies and tribally-based nonprofits to raise money.
- Building political clout.
- Supporting reservation economic development.
Census 101: What You Need to Know
How the 2020 Census will invite everyone to respond
2020 Census and Confidentiality
Counting Young Children in the Census
The 2020 Census is accessible for everyone
Counting People Experiencing Homelessness
2020 Census Informational Questionnaire
Native American Resources:
Indian Country Counts - Our People. Our Nations. Our Future. - NCAI 2020 Census Toolkit (December 2019)
Why is Important for Tribal Community Members to Respond to the 2020 Census?
Native People Count California Toolkit (February 2020)
Native Fact Sheet (February 2020)
Questionnaire Tips (February 2020)
Census Impact on Tribes (February 2020)
Links:
CA Census | Be Counted, California!
U.S. Census Bureau/Tribal Affairs
Census Policy Advocacy Network (CPAN)
CIMC Complete Count - Census 2020 Project
CIMC Census Information Center
Videos:
Today is Census Day, April 1, 2020 - California Indian Manpower Consortium, Inc. (April 1, 2020)
Indigenous Head of Household - Census 2020 - Native People Count - Northwest Intertribal Census Workgroup (March 30, 2020)
2020 Census PSA: Native Voice - Shoshone Bannock Tribes (March 5, 2020)
Be Counted Census2020 - Northwest Intertribal Census Workgroup (February 26, 2020)
2020 Census: National Congress of American Indians Representatives - US Census Bureau (December 20, 2019)
Southern California Tribal News - SCTCA (December 1, 2019)
2020 Census PSA: Who Am I? - US Census Bureau (November 7, 2019)
Be Counted in the 2020 Census - California CCC (October 7, 2019)
CIMC Executive Director - CA Census 2020 Call to Action Press Briefing (April 2019)
News Articles:
Richmond Pulse: California Tribes Hold Festive Launch for 2020 Census(March 12, 2020)
Indian Country Today: Three national Native American organizations partner for historic census initiative (February 28, 2020)
The Guardian: 'We are still here': Native Americans fight to be counted in US Census (January 15, 2020)
NBC News: Native Americans, the census' most undercounted racial group, fight for an accurate 2020 tally (December 29, 2019)
U.S.News: Where Most Native Americans Live (November 29, 2019)
MTV News: How Young Native Americans are Using the Census to Make their Communities Heard (July 15, 2019)
Census.gov: Tribes form Complete Count Committees to Promote Census Particiation (June 25, 2019)

Desert Sun: Torres Martinez Tribe prepares for census count in 2020 (June 14, 2019)
The Washington Post: Census, tribal leaders push for American Indian Participation in 2020 Census (June 14, 2019)
Los Angeles Times: The 2020 census is coming. Will Native American be counted? (June 13, 2019)
The Bay State Banner: Reversing census undercount in Indian Country (May 24, 2019)
Indian Country Today: Census is less than a year away: A better count is essential for Indian Country (April 9, 2019)
---
CENSUS 2020 INFORMATIONAL SESSION - November 1, 2019
POWERPOINT PRESENTATIONS:
---
For information about CIMC events,
visit CIMC Upcoming Events Calendar.
---
---
Join our Mailing List:

CIMC Condor Connection Newsletter Archive
Download: Newsletters (pdf)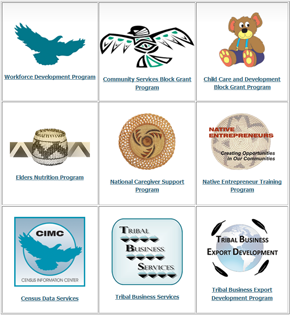 National Caregiver Support Program
Community Services Block Grant Program
Child Care and Development Block Grant Program
Tribal Business Export Development Program